The Fort Scott Area Community Foundation officially recognized a need in the community with a Surprise Grant on April 26. Doloris Sonntag of Lee's Paws and Claws was awarded a $600 grant during the Chamber Coffee.
Because of Fort Scott Rotary Club's Dancing With Our Stars donation to the FSACF, money was available to award a grant for a need that was identified outside of the FSACF regular granting cycle timeframe. The grant will be used for operating expenses.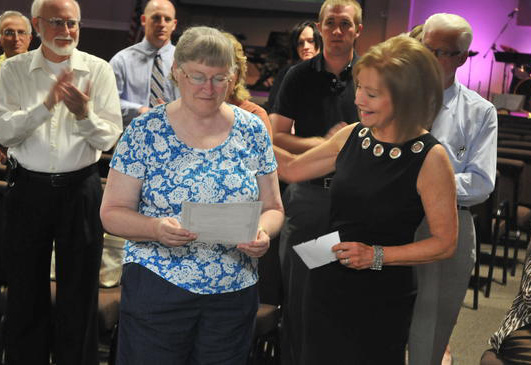 Fort Scott's newest animal shelter was built in October and is located at 721 240th St., Fort Scott, Kan. An anonymous donor matched up to $2,000 for all funds the animal shelter raised during the month of April. As a result of the matching funds, the $600 FSACF grant grew to $1200 for the shelter.
Lee's Paws and Claws, named for donor Lee Weast, is in need of volunteers and donations for basic expenses in order to open its doors. The shelter is now built and paid for, but it is currently in need of contributions to help with operating expenses. Lee's Paws and Claws is associated with Shirley Yeager Animal Friends Foundation. However, only the annual interest from that endowed fund may be used to pay ongoing expenses. Therefore, the animal shelter is conducting fundraisers and requesting donations to open and operate successfully.