The Fort Scott Area Community Foundation Board of Directors presented 10 area non-profit organizations with grants for the 2012 Grant Cycle during a Chamber Coffee on November 1. The following organizations were presented grants:
Fort Scott Middle School: Project ART – to help cover transportation costs for going to KC productions.
Care to Share: Gas Vouchers – for $25 each to supply 40 vouchers.
Lowell Milken Center: For Audio for African/American display.
Fort Scott Church of the Nazarene: For 1 42" flat screen TV for downtown nonprofit Coffee House.
First United Methodist Church: For Condiments and basic ingredients for weekly free meals.
Bourbon County Interagency Coalition: For Rent/Utilities assistance vouchers.
Young Life: To help establish Young Life in Fort Scott.
Ellis Foundation: Scholarship for a student from Bourbon County.
Big Brothers and Big Sisters of Bourbon County: To fund mentorship matches.
Gordon Parks Center: Graphics for the Interactive display – funded by a Dr. Pratt & Pauline Irby Grant.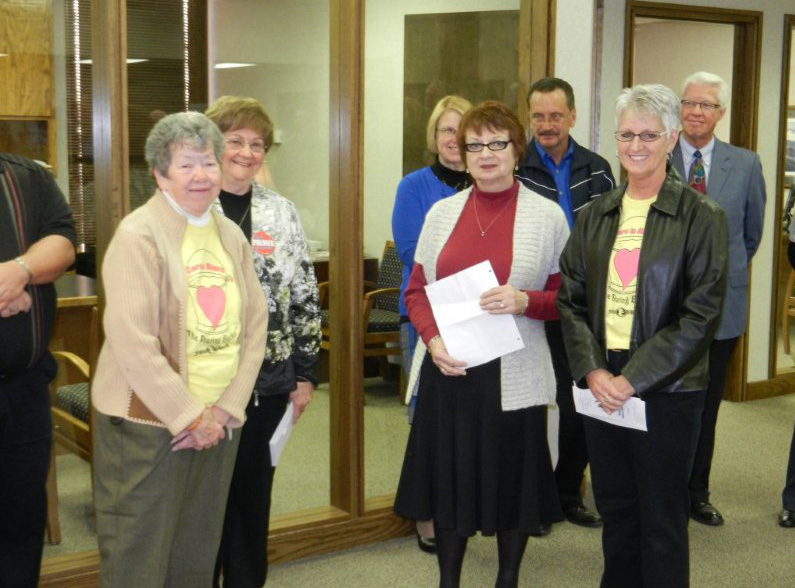 FSACF received several Thank You notes from Sharing Bucket gas voucher recipients. One said, "I was one of the lucky recipients of a gas card at our recent Care to Share meeting. My sister received a chemo treatment in Pittsburg today and your card was put to good use."